*IN BEST OF BIRMINGHAM'S EVENT LISTINGS GUIDE*
---
Event Listing Info:
Event categories
When:
Date(s) - 15/07/2023


Location / Link:
See what's on & more about the venue at the above location page / link.
The ninth annual National Bhangra Festival takes place on Saturday 15th July 2023 at The New Bingley Hall, Birmingham from 5pm to 11pm BST.
SATURDAY 15TH JULY 2023 – THE NEW BINGLEY HALL, BIRMINGHAM
You are invited to the ninth annual National Bhangra Festival, happening on Saturday 15th July 2023 at The New Bingley Hall in Birmingham from 5pm BST onwards. This indoor table seated family event is not just any ordinary festival, but a unique celebration of music, dance, and culture that will provide you with a truly memorable experience to cherish. Hosts on the day will be well renowned presenters; Manpreet Darroch, Meetu Singh, Apna Bhajan Jagpal, and Chandni Kahn.
LIVE PERFORMANCES – DJ – DINNER – DANCE – EXHIBITION
Popular singers, dancers, musicians and dj are ready to rock the stage with breathtaking live performances. These talented artists include; Silinder Pardesi, Dara Shaktee, Shin Cobra, Balwinder Bhatti, Mahhi Kaur, Inderjit London, Tariq Khan, Ruby Akhtar, Meshi Sandhu, Jeet Kaur, Manisha Chander, Bobby Sarver, Mehak Sharma, Booboo, Kajal, Rubaya Pirzada, Jeeves, Rohini Gogna, Neelam Singh, Haripa Dancers, Gidda Radio Panj Da, Jodi Dancers, DJ Tajj Sarai.
This entertainment extravaganza will also indulge you with a delicious served three course meal, wide variety of exhibitors, engaging workshops and a large dance floor that awaits your best moves.
EVENT LOCATION:
The event takes place at The New Bingley Hall, 1 Hockley Circus, Birmingham, B18 5PP. This delightful spacious draped marquee suite is conveniently located outside of the Clean Air Zone. For those needing overnight accommodation, there are several well known hotels located nearby.
TICKETS AND FOOD:
A table seats ten people and all tickets must be purchased in advance. No charge for children under three if a separate seat is not required. Every seat includes a delicious served three course meal. Option for vegetarian only food is available for table bookings, but must be requested in advance.
Tickets are selling out quickly, and we don't want you to miss out on this amazing opportunity to experience this entertainment extravaganza. So don't wait any longer, secure your seat at the National Bhangra Festival 2023 here on Eventbrite or call 07879 407877 today!
DRESS CODE AND SECURITY:
The dress code is smart casual, western or eastern. SIA qualified security officers will be onsite and random checks may be conducted.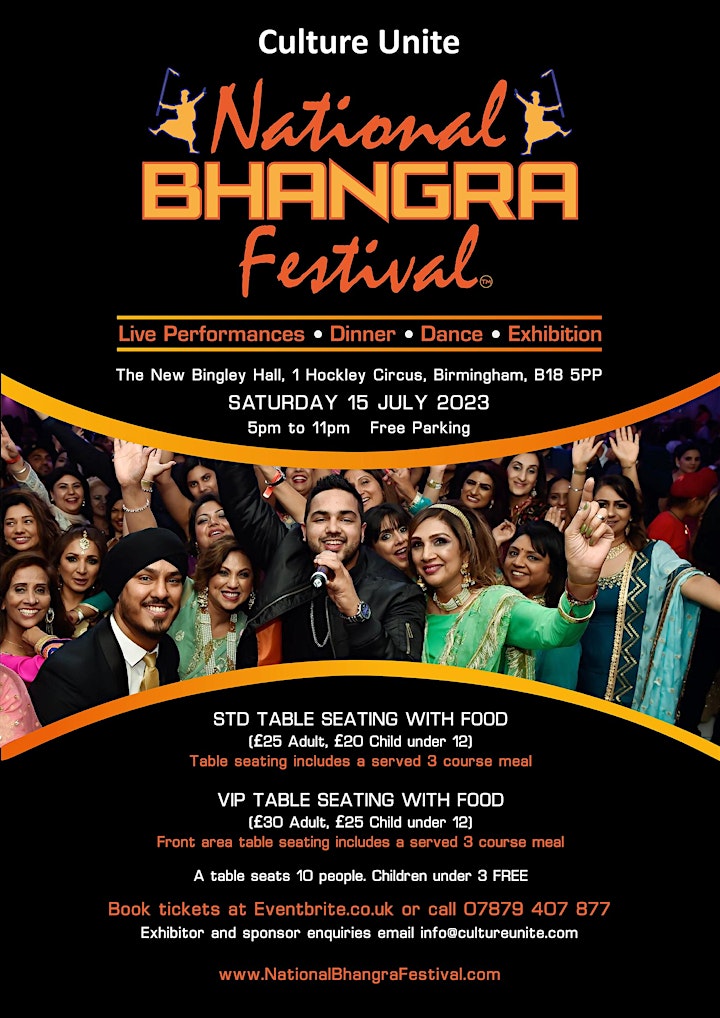 Dress Code: None
Age Limits: N/A
Spot a mistake? Tell us so we can fix it ASAP.
Add your events to Best Of Birmingham's event listings online guide, & event listings magazine!